Nicola Hogan is a Holistic Therapist and Self Care Mentor, who enthusiastically shares her love of reflexology, aromatherapy and meditation with her clients. Nicola practices from Earth Point Energy Centre in East Perth and has also presented at the Mind Body Sleep events. When she is not treating clients, you'll find her writing blogs and articles, taming her 3 kids and ginormous pumpkin vine or heading out for adventures in nature. 
This morning I was at a client's house for a Mobile Reflexology session. When I asked how she was doing, she replied "hungover from a late night of work drinks on Saturday".
Yes, it is that time of the year again. I know I was feeling a little more tired than usual this morning. Yesterday afternoon I hosted a Christmas High Tea for my extended family. Champagne in the afternoon, rich Christmas cake and fruit mince pies. Tiny pastries filled with cream cheese and smoked salmon. Petit fours and chocolates. Gin and tonics. All very delicious and decadent.
Tis the season, right?
December and January are typically that time of the year where we enjoy a little more festive cheer and food than normal. Not only does this feel great at the time – we're happy, tipsy and relaxed. It is not uncommon to wake up the next day with a headache or sore tummy. And the older you get, the harder it is to recover the next day(s). *Note, I do not know if this is scientifically proven, it's just my experience, having turned 40 this year, recovery time seems to have doubled!
There are a few tricks that I have discovered along the way to help support the body recover from over indulgence. Holistic tools like self-massage and aromatherapy work wonders for your body and are healthier and healing on your already hardworking liver and kidneys than popping a few Panadol and chowing down on a Big Mac and fries. Ask your naturopath, she'll back me up on this one.
My 5 Top Self Care Tips for Over Indulgence
Hydrate. Sounds simple, doesn't it. Before going to bed after a particularly indulgent evening, I'll drink a pint of water and usually a peppermint tea. In the morning, I skip my traditional long mac and create a jug of water. I add thin slices of cucumber, ginger, orange, lemon and fresh mint, lots of ice and filtered water to a 1-liter glass jug and sip on this all morning. If I am going out, I'll fill my drink bottle and sip on the go. I'll refill this jug throughout the day and continue sipping.
Foot soak. I love soaking my feet. I admit, I do prefer a good soak in a bath, but my house doesn't have one. I can feel a little guilty about the water used and wasted with a bath. In my foot bath I add to warm water a half cup of magnesium salts and 2 drops each of lavender, peppermint, orange, geranium and basil essential oils. When I am finished, I tip the water out onto my garden.
Self-reflexology. After a foot soak, I'll massage some reflex points on my feet. Foot reflexology is the practice of sedating or stimulating specific zones on the feet. The entire body is mapped out on the feet and when massaged, can have a positive impact on whole body wellbeing, from the inside out. At this time of the year, I give extra love and attention to my Liver, Kidney, Adrenals, Stomach and Thyroid points. Locate each point on your foot and apply a gentle but firm circular massage pressure for 1 – 2 minutes.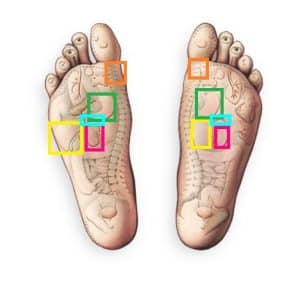 Aromatherapy. There are many different ways to utilize the magical properties of essential oils. When it comes to a hangover, diffusion is by far my favourite way to use aromatherapy. Place water in a diffuser or oil burner and add up to 10 drops of any of the following oils, or a combination. Try lavender, peppermint and lemon for relaxing, soothing and uplifting energies. Other essential oils that may help hangovers include rosemary, grapefruit, orange, lime, basil and marjoram. Along with diffusing, try an aromatic dressing. Here's how; after showering, take a quarter cup of base oil (coconut is good, so is almond or even olive oil), add 10 drops of your chosen blend of essential oils and massage all over your body, paying lots of attention to you head and neck, being careful not to get any in the eyes. You could also work on those Reflex points on your feet.
Meditation/Walking. Before you shut all the curtains and curl up on the couch in a ball for a Netflix binge, try some light exercise like walking and include meditation. It might be the last thing on your mind, but slipping on your trainers, a hat and your darkest sunglasses can ease your hangover quicker. It's about getting your circulation flowing and metabolizing the night before quicker. Also, fresh air just feels Pop your ear buds in a listen to a guided meditation and you'll be tuning out your headache faster than you slammed down those tequila shots. If you can't manage the exercise, lay down on you bed with a cold flannel. Maybe add a couple of drops of peppermint and lavender essential oils and breathe. Again, a guided meditation will be useful here and there are so many to choose from. Head over to YouTube and search guided meditation for hangovers. This can sometimes turn into sleep, but that is okay, your body needs the rest! The practice of meditation can help to soothe and relax tension in your head or ease your stomach after an over indulgence.
It is the silly season, but that doesn't mean you have to throw all of your good habits and get your festive cheer on every day (but if you do, there's no judgment here).  Self-care also means tuning in to your body. It's a trusting and knowing when you've had enough, when you need to rest and when you just need to drink sparkling water and eat a big bowl of rainbow veg. By all means have fun and enjoy yourself, I know I will. But know that you have simple, easy holistic tools on hand to help support your body through the over indulgence. And, maybe pre-book in with your Naturopath for a herbal liver tonic in the new year!